Fall is one of the most beautiful and enjoyable seasons, with the warm weather finally beginning to cool down and the colorful leaves filling up the trees. Naomi Loomis loves traveling during the autumn season to see the wonderful scenery and fall festivities different cities have to offer. Listed below are a few of the best cities to travel to travel to during the lovely fall season.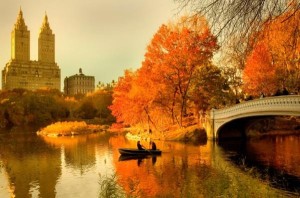 NEW YORK CITY
This city is vibrant with color during the fall. The landscape over Central Park is enveloped in red leaves from the black tupelo trees. As well as the vibrant red, leaves of all fall colors are dotted all over the city for the visitors to enjoy.
SALT LAKE CITY
Not only is Salt Lake City beautiful in the fall with bright foliage, but it also offers plenty for the tourist to do during their fall stay. The Western Music Festival provides the visitor with a unique music experience and the Oktoberfest festival is one of the biggest festivals in America.
PORTLAND, ME
Fall activities in Portland include a hiking up the numerous mountains surrounding the city. Here the views are spectacular and will have you wanting to visit time and time again. In addition to the spectacular views, good food can be found during the foodie-palooza Harvest on the Harbor to satisfy even the biggest of appetites.
NASHVILLE
If music is in your soul then a fall visit to Nashville is a must on your list of places to travel. During the fall, Nashville boasts of three separate festivals:
       The Independent Music Festival

       Loveless Café's Biscuit and Bluegrass festival
Enjoy all the colors of fall combined with good music and good food during the fall season.
DENVER
Denver is one of the best places to view the fall season in all its Technicolor. Cherry Creek Bike Trail and High Lane Canal are both beautiful spots that show the fall foliage in all of its splendor.
SAN FRANCISCO
The fall season offers the tourist a cheaper travel destination. The off peak season means that prices come down and attractions such as the Golden Gate Bridge and Cable Cars become far less crowded.