Naomi Loomis

was one of the many tourists awed by the vigorous plant growth in Muir Woods.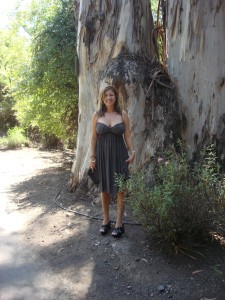 Muir Woods National Monument protects nearly 554 acres of forests near San Francisco, California. Today, the park is one of the most popular tourist destinations in the San Francisco Bay area, attracting upwards of 776,000 visitors annually.
Millions of years ago, sequoia and redwood trees grew throughout the United States. Two million acres were estimated to contain the trees, but due to logging, most of the forests were eliminated. The trees require a humus-rich loam, which is a stony or gravelly soil, to grow. Today, sequoias and redwoods can only be found in a narrow belt from California to Oregon.
Congressman William Kent and his wife were the first to take action protecting the forests in the early 20th century. Later, President Theodore Roosevelt and John Muir became major leaders in the environmental campaign as well. Muir established the National Park system, and that is how Muir Woods earned its namesake.
The Coast Redwood, relative of the sequoia, is the major attraction of Muir Woods.  These trees can grow to astonishing heights; the largest one in the Muir Woods reaches 258 feet.
During her trip to the park, Naomi Loomis was able to take a picture in front of one of these massive trees.
To preserve Muir Woods, no camping or lodging facilities are available and picnicking is not permitted. Naomi Loomis noted that this added to the natural beauty of the park. There are a number of trails, however, that allow visitors to get a closer look at the immense wildlife. Walks are also available alongside a ranger, who speaks to guests about various topics such as wildflowers and watershed. In addition, Muir Woods provides a scenic route for runners participating in the Dipsea Race. This cross country running event is the oldest in the world and participants have been running through Muir Woods annually in this race since 1905.
Learn more about Naomi Loomis and her travels by following her on Twitter or by connecting with her on LinkedIn: http://www.linkedin.com/in/naomiloomis