Tips for Obtaining Your Passport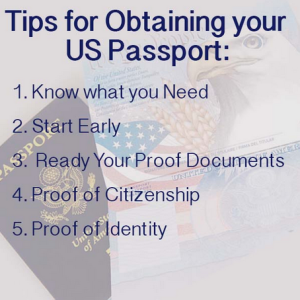 Naomi Loomis is a self-proclaimed world traveler, spending much of her free time traveling with her husband and five children to destinations domestic and international. Travelling is one of her passions. Some of her favorite destinations include the British Virgin Islands, Daytona Beach, Napa Valley, Las Vegas, Vail, Amelia Island, Cancun, and Italy. Since travelling can be intimidating to some, especially to other countries, when you haven't gone before; she offers the following tips for obtaining your passport, and gaining experiences and memories that will be unforgettable.
1.       Know What You Need
First step to successful travel is to know what you need, as a traveler. "United States citizens, including newborns, must have a passport when traveling internationally by air. U.S. adults, and some children must also have one when traveling internationally by land or by sea".
2.       Start Early
Make sure to start early in the process of obtaining a passport, as depending on the documentation needed, photos required, and process time; having your passport in hand, could take up to two months. You won't be able to travel if you don't have the passport.
3.       Ready Your Proof Documents
Naomi Loomis warns that that the U.S. government needs specific forms of documentation to process a passport to another country. You need to be able to prove your identity and your U.S. citizenship. U.S. passport offices will allow a number of different documents in proving citizenship and identity. They are:
Proof of Citizenship: for proof of citizenship, a person can use a previous U.S. passport or birth certificate. (If born outside of the U.S., you will need a Consular Report of Birth Abroad, Naturalization Certificate, or Certificate of Citizenship.
·         Proof of Identity: for proof of identity, a person can use a U.S. passport, government or military ID, driver's license, or naturalization certificate.