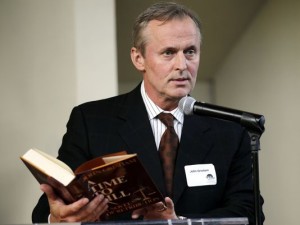 Naomi Loomis is an avid reader and fan of John Grisham. She enjoys reading his novels whenever she gets a chance, especially while on vacation with her family.
John Grisham is known worldwide as a best selling author of popular legal thrillers including The Firm, The Partner, The Last Juror, and A Time to Kill. However, many people are unfamiliar with Grisham's path to great writing success. Before he was a writer, John Grisham was working 60-70 hour weeks at a small law practice in Southaven, Mississippi. He enjoyed writing merely as a hobby, squeezing in time to write in the early morning before heading into the office or during courtroom recesses. One day, in 1984, Grisham overheard the horrifying details of a trial involving a young girl who suffered as a victim of rape. After listening to her traumatic and harrowing testimony, John Grisham was inspired to write a novel exploring what may have happened if the girl's father had murdered her attackers. This resulted in his first publication, A Time to Kill, published in 1988 by Wynwood Press, initially only printing 5,000 copies.
Not letting this low number of prints discourage him, John Grisham began working on his second novel the very next day after completing A Time to Kill. It was the story of a young big shot attorney who was lured to an all too perfect law firm that would end up being much different from what it appeared. Grisham sold the film rights for The Firm to Paramount Pictures for $600,000. The Firm spent 47 weeks on The New York Times bestseller list and became the bestselling novel of 1991.
Since publishing his first novel in 1988, John Grisham has written one novel a year, each one becoming an international bestseller. Currently, there are over 300 million John Grisham books in print across the globe, translated into 40 different languages.
His most recent novel, Rogue Lawyer is set to be released  in October of 2015 and is available for preorder today!